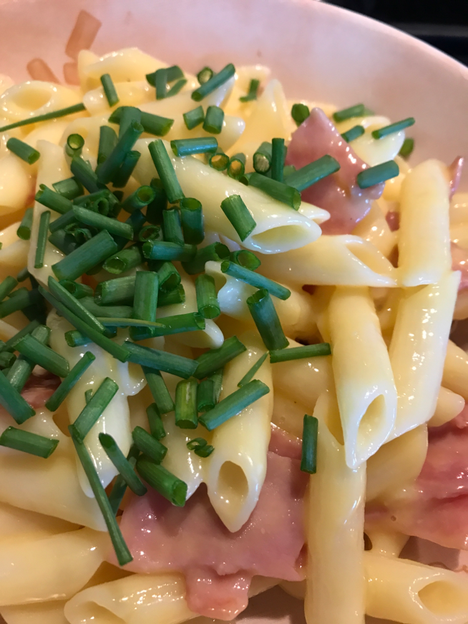 If you are anything at all like us, when mid-Spring has hit and swimming in eggs, they lose their novelty.
While its true that eggs are the chameleon of the dairy food group, finding conspicuous ways to eat them comes into fashion.
This recipe is one of the most popular in our house, when finished with egg fried rice, quiches and frittatas, we turn to pasta.
Cabonara can be quite rich, especially when you use cream, but I was given this gorgeous "Florentine" sauce recipe that features a lighter egg-based sauce instead.
I like to add spinach and mushrooms to the sauce to change it up at times, and always add fresh seasonal herbs from our garden. 
Ingredients
500gms penne or spiral pasta (gluten free or regular)
Garlic - one clove
1 x Small brown onion
3/4 cup cheddar cheese (or pecorino) 
50gms Parmesan
3 eggs, beaten
30-40gms butter
Fresh herbs
2-3 rashers of bacon or 50gms of speck
Spinach - optional
Mushrooms - optional 
Method
Cook pasta in saucepan as per packet instructions.
Fry up onion, garlic and bacon / mushrooms in a small frypan and set aside.
Beat eggs and prepare other ingredients ready to mix into saucepan.
When pasta is cooked, drain saucepan but leave a little of the pasta water in the bottom, about 100mls.
Stir butter through to cover pasta
Stir bacon and onion mixture through
Add cheese and Parmesan and stir through.
Once cheese has melted add eggs and any other ingredients.
One the pasta is mixed throughly, plate up and enjoy with a crusty piece of fresh bread.
Despite being a recipe traditionally from Rome, Italian recipes labelled "Florentine" lend itself to the methods used by cooks in Florence. 
I hope that you enjoy all of your yummy fresh eggs this time of year and give this delicious recipe a try. Belissimo!
Share: