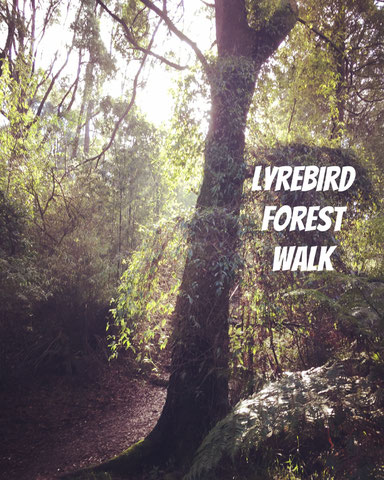 Mirboo North, Victoria, Australia
Perhaps one of Gippsland's best kept secrets is the LyreBird Forest Walk in South Gippsland, just outside the township of Mirboo North, which provides stunning walks, natural vegetation and great access for people of all abilities.
There are three main walks in the forest, the River Walk, which is a short stroll along the river, the Coral Fern Walk, which is a 3km walk that loops around the river, and the Warrior Walk, which is a more challenging up-hill walk.
As the name suggests you can hear the "Superb Lyrebird" while walking the tracks, although they are hard to spot in the vegetation, they are the size of a large chicken, and the males have a beautiful display of tail feathers. The walk is brilliant for bird watching enthusiasts with sightings of White-throated Treecreeper, Yellow-tailed Black Cockatoo, Scarlet and Eastern Yellow Robin, Brown Thornbill, Grey Shrike-Thrush, Laughing Kookaburra and the Crimson Rosella.
The sounds of all these birds, the lapping of the river and the fresh air provided by the ferns makes for relaxing walking and up hill walks provides a good workout for all. There are little bridges that cross over the river and lots of benches for resting. The day we went in mid-winter there was a lovely little burst of hail, which you can see in the video below. The vegetation was lush and green, with little pink and white snowbell native flowers starting to pop up, heralding the arrival of spring. I imagine the flowers must be magnificent come summer! 
There are gravel paths throughout the walk, even on the uphill slopes and picnic areas in the car park and also the large bench seat and table along the Morwell River are well maintained. All up there is 4.8km of walk and all loop back to the carpark. When we were there, there were walking groups enjoying the surrounds. 
 On our way back to the car park we found there was a lookout to a beautiful gully, a little boulevard walk and another little bridge, so there was lots of interesting walking detours you could take. This is a great walk to take visitors to and to enjoy every weekend of the year. with the whole family!