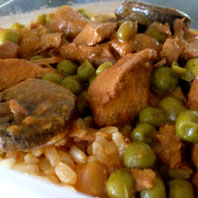 or crockpot cooking with an Irish twist.......
Last week I bought an electric crockpot (slowcooker). Where has this great yoke been all my life? I've used it twice already. Enough said. It will get used alot more. 
I don't have any big kitchen appliances, except for a Thermomix, as I like one having one contraption that does nearly everything in the kitchen. Saves time in the long run. I want more time now more than ever to spend not doing mindless standing over the stove in the kitchen. I'd rather spend the evenings with the kids and enjoying time with them.
After looking at countless recipe books I decided to make up a recipe with the 2 main meaty ingredients i had left out. Black Pudding (a staple in most irish peoples homes) and 2 chicken breasts.
I was kind of inspired by the "Gourmet Farmer" who puts black pudding in his baked beans and slow cooks them, so i decided to add it to a full blown chicken casserole to add good porky flavour. It was delicious. So delicious. Sometimes experiments work out well! 
I use Gotzinger Queensland brand (gluten free) award winning black pudding. Available from all good supermarkets and grocers in Australia. 
Ingredients
2 large chicken breast (free range)
12 ounces (half pack) Black Pudding
1 cup chopped onions
2 carrots chopped
1 1/4 cup stock (veggie, chicken or bacon)
1 can (300gms) tomato soup
1 tablespoon tomato paste
Herbs to season (rosemary , thyme)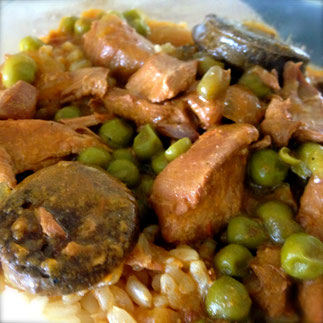 Method:
1. place ingredients into crockpot.  Cover and cook on LOW for 6-8 hours, HIGH for 3 hours.
2. Shred raw chicken or cut into desired portion size
3.  Add extras, if you want any of them.
4. Toward end add some peas and 1 tablespoon of flour to thicken with a little cold water. (I used gluten free).
5. Serve chicken over rice or boiled potatoes.
Extra Add Ins:
1 tablespoon of honey (counteract acidity of tomatoes)
2 green capsicums
2 tablespoons of almond butter
I cup of peas
jasmine, brown or wild rice for serving
i'm in slow cooker heaven......