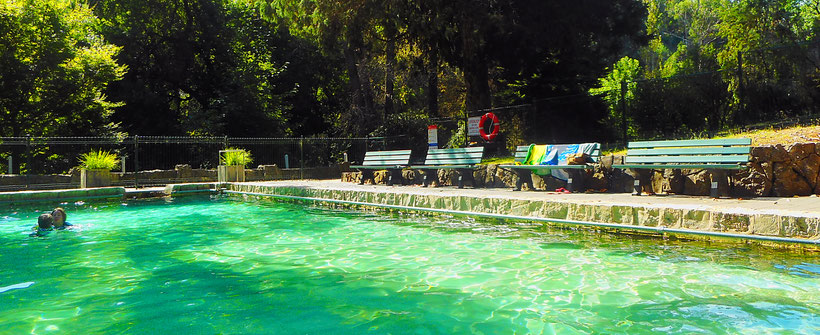 Buchan Caves, Australia
On the way to the Snowy River National Park some of the best caving experiences in Victoria can be found.  The picturesque village of Buchan that sits into the hillside of East Gippsland is home to the Buchan Caves Reserve, which contains a beautiful campground surrounded by some of the oldest Canadian and American trees you will find in Australia and features the Fairy Cave, Federal Cave, Royal Cave and Duke's Cave.  
We learnt that the temperature stays fairly consistent inside the caves (around 17 degrees celsius) meaning that the cave water, that is fed from Duke's Cave direct into the special fresh water swimming pool is quite cool but stays fairly consistent also in temperature. 
Icy and filled with minerals, this water is amazing to plunge into on a 40 degree (celsius) day, but I imagine probably not so much on a cooler one!  Locals say that a 30 degree day or over is perfect for swimming and many people can be found in the pool on these days. 
The pool is 10m wide by 15m length and there are plenty of seats and lawn to accomodate swimmers. 
The pool was man-made by the original Moon family  that owned the caves, who forged it out of the bedrock.  The water feeds in through the Duke's Cave outlet (pictured above) and feeds back into the Buchan River.  Filtered by the limestone in the caves, its fresh, crystal clear and filled with minerals. 
Only the brave-hearted jump directly into the pool, it's a cool treat on the skin from the hot sticky weather, good for your skin and soothing the hear the waters trickling from the cave.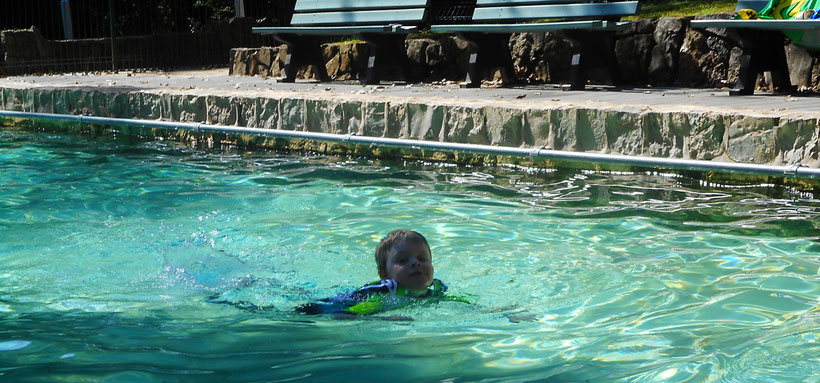 While there are paid tours twice a day of the caves, the pool is free for everyone to use, making it an inexpensive day out for all to enjoy, and providing a sensory experience like no other. I mean, can you tell anyone that you have swam in cave water? 
Read:
Get there:
Share: