Narooma, New South Wales, Australia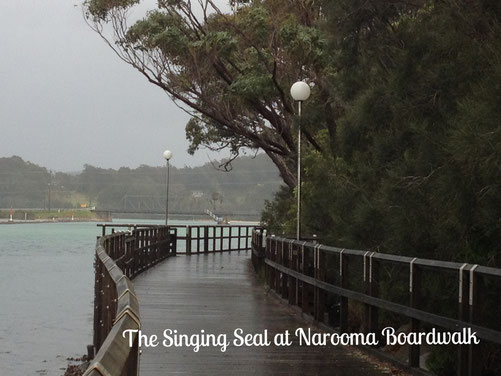 The wide Mill Bay Boardwalk in Narooma, N.S.W, is one of my favourites as the 1.3km walk takes  your right over the inlet and gives you the option of heading out to the break wall and ocean, where there are more spectacular views.
Even in the Winter, when I was there, it was warm (about 18 degrees celsius) and even on the rainiest of days the tropical green colour of the water was refreshing.
Engaging the senses, the boardwalk begins at the northern side of Wagonga Inlet and begins at Mill Bay and is wheelchair and bike friendly.
While the smell of Jasmine hits you from the shrubs that line the rocky inlet, you can also see oysters, fish, sting rays and at times dolphins, in the crystal clear waters. Out in the ocean, Narooma is a sight seeing destination for Humpback Whales as they migrate down the coast with their new calves.
For the week I was there, I'd have a friendly seal for company as I walked. Every morning it would grab leftovers from the fisherman for breakfast in the Inlet, then he'd sing and freestyle up the boardwalk beside me before heading out to the break wall with his friends for the day! Quite clever really and perhaps the happiest seal in the world! 
"Narooma" comes from the aboriginal word that means "clear blue water" and the spectacularly scenic inlet is set against the Gulalga Mountain.  The boardwalk is wide enough for walkers, runners and cyclists.
Often described as an "outdoor aquarium", Narooma's boardwalk is a special scenic walk that can be enjoyed over and over.