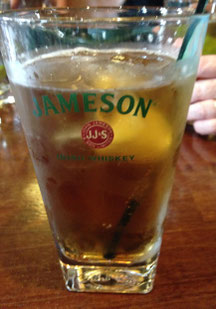 Calling all Whiskey and Marketing Enthusiasts.....
Unlike most women, I actually do enjoy a whiskey (and if we are in Scotland, a whisky). Many ladies wouldn't really be that honest, but I do like the occasional dram. I know its not glamorous like a cocktail, or timid and clear like a gin, but it has depth and colour and tastes a little different from country to country, which I like.  
I'm definitely not an "always whiskey" drinker, but I have done a few tours in my time due to general interest in Scotland and Australia so a trip to Jameson Midleton Co Cork (which wasn't too far out of my way) was enticing. And I am so glad that I did, for what I found there was more than just a whiskey "experience", but a full blown marketing "experience", impressive in nature, and with a definite "wow" factor that left me in awe of these marketing gods of whiskey!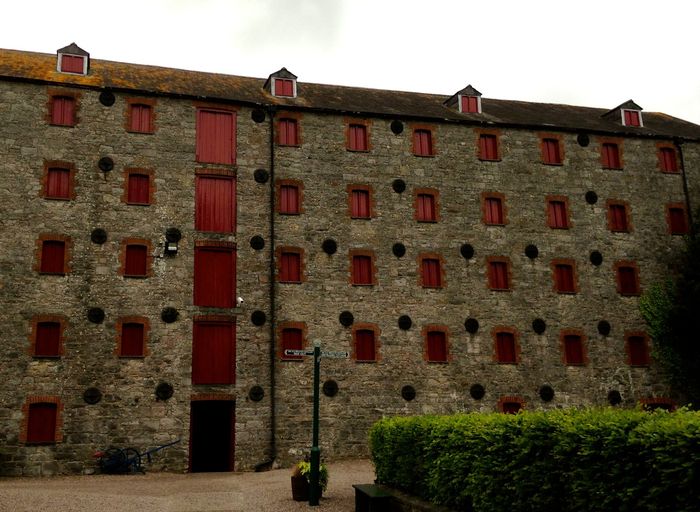 If the G.F.C had any negative impact on the Jameson Tourist centre, theres certainly no hint of that in Midleton. On my recent visit, quite a few areas of the country that had been thriving before the G.F.C were clearly suffering.
A few towns were looking purely run down, and many of the tourist attractions had been downsized. Some places (in many areas across the whole of Ireland) had shut down souvenir shops, and increased sizes of the restaurants to capitalise, and many of the gardens had shut down nurseries and shops surrounding them. 

In most cases, when I had asked what happened, staff jokingly said "That shut down when the Tiger ran away," (meaning Celtic Tiger of course).  You have the love the Irish people and their sense of humour, its what gets them through when times are tough!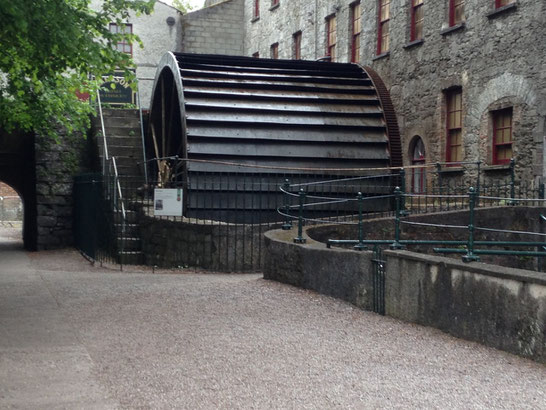 However, Midleton Co Cork, is thriving, with a steady throng of traffic going through the town, it was looking picturesque as ever.  The iconic distillery was sitting in the centre, full of buses and tourists.  Gardens and buildings are in pristine condition and lovingly restored. Many of the older vehicles and machinery that were once used are all on display, making it a haven for engineering enthusiasts also. 

The big wheel (pictured here) is even still in operation.
The entrance hall glimmers and there is a bar, of course, in front, stocked with Jameson and plush seating. Ideal place for leaving your Grandad while you go explore (no really, thats a bit mean)!
Jameson Whiskey are currently the premium Irish Whiskey in the world, selling 48 million bottles worldwide annually, which equates to 1.3 billion glasses a year, just in case you were wondering! It has also be undergoing an 100 million Euro expansion due to global demand, which has been growing annually for the last 20 years, and sells whiskey in 120 markets around the world. 
The Old Jameson Distillery was established in 1780 and was taken over by John Jameson in 1810 when the operation was officially renamed to John Jameson & Son's Bow Street Distillery.  The distillery also housed a Smithy, Cooperage, saw mills, engineers, carpenters, painters and coppersmiths' shops.
Things that strike me about this tour is that it really is an "experience".  When I saw the enormous sign outside of the town plugging this, I thought it better had be something terrific as it takes a great deal to bring a customer or enthusiast on a "journey" rather than just give them the regular touristy routine. Jameson have managed to do this all with grace, elegance, attention to detail and thought. 
Heres what I loved about the Jameson Experience:
1. Staff were exemplary, on all levels.  The woman at the front desk switched languages in the snap of a finger,  I estimate she knew at least six to nine, and after asking where you were from (and recording it on the computer), she would complete the transaction in that language. The French-Canadians in front of us asked her to speak Irish to them also, which she did with ease.   Our tour guide, while giving a detailed tour on the distillery's history and technologies, was also able to answer, on the spot and without hesitation, every question posed to her (many by American Texans), down to the scientific name of the Yeast that they use in the whiskey. Bar staff were extremely well dressed, friendly and generous, when we made it out there for our complimentary cocktail (I'll get to that later I promise).
2.  There's Whiskey tasting! You are taken through every building and while you take a tour, you see a movie in a large movie theatre, walk through cask halls, following the distilling process, and also attend a special tasting where you sample 3 different types of whiskies.  Theres an oaky cheap Scottish one first on the left, then a much better quality American one secondly on the right hand side of the tasters mat, followed by the triple distilled Jameson in the middle. Which one do you think would taste the best? Brilliant marketing right there.
3.  Its great value for money! 15.50 (Euro) for the 3 tasters test, and a complimentary whiskey or cocktail at the bar, plus 2 hours of fun touring around and enjoying the grounds. Your ticket is beautifully designed and makes an excellent souvenir in itself.
4.  Theres been great attention to detail taken, when it comes to everything! In the gift shop there is signage absolutely everywhere, quantities of what you can take with you on the plane, items you can put in your luggage, extra hard packaging on the whiskey.  The team has taken every purchasing objection into account and turned them into opportunities to sell with convenience and ease. Items in the gift shop range from just a euro right up to premium whiskey products that you can buy and become an exclusive member, or be added to a ledger, catering to all buyers.
5.  They show you how to make a cocktail. Yep theres a signature Jameson cocktail, easy to remember and take home the know how to make it again, with your bottle of Jameson of course!
6.  They have a "Whiskey School". Where you can learn how to make whiskey and become knowledgable in the area! 
7.  You get a certificate. Whats not to love about that, theres a series of Ipads available, so you can email yourself the certificate, and of course, they capture your details in the process. Your details are also captured in the Souvenir shop again with area and postcode. Im actually generally interested to see what they do with these details, maybe an email on your birthday forever? Who knows, I haven't received anything yet though...... I am assuming there will be some kind of follow up.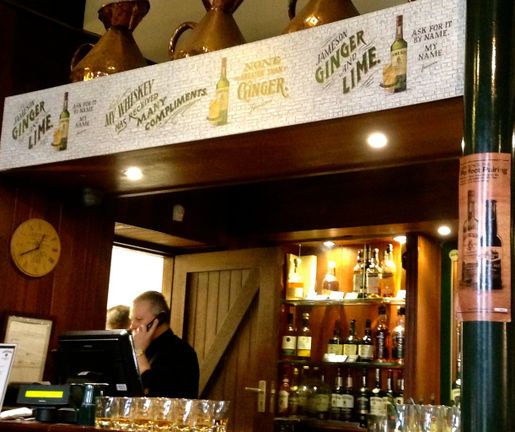 Theres a little hint in this picture of what the signature cocktail is.......

There is lovely seating areas for drinks, and there is a restaurant there also.  The Restaurant was really impressive, with a menu complete with allergen advice for Vegans, Vegetarians and Gluten Intolerances. 

I found that all surfaces, windows are counters were spotless, with staff spray and wiping continually, when not pouring drinks or attending to people. Staff were definitely taking pride in their work and thats impressive to see. Jameson have definitely fostered a strong work ethic with their workforce.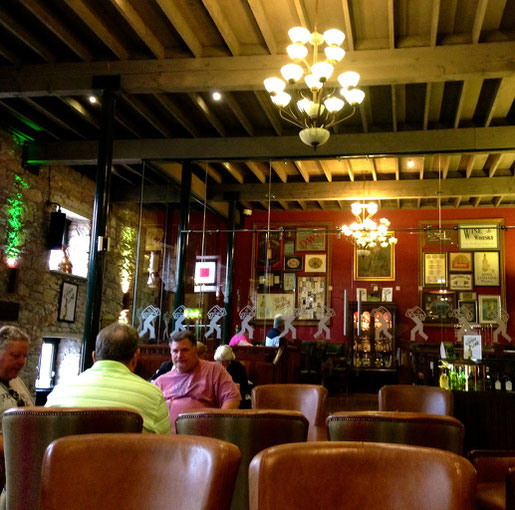 All interiors throughout our sleek, luxurious and comfortable. The walls are decorated with memorabilia in a very tasteful way.  They hire out premises for high end special events and you could literally sit in there all day. Looking out at the misty rain, as it is on most days in Ireland.
 Staff are chatty, welcoming and have a great sense of humour, which adds to the experience.
One bartender, who clearly loved his job, told me that he drove from Waterford every day to work, which shows the importance of the distillery to the local area's economy.
Jameson has many whiskey products including Jameson Special Reserve, Gold Reserve, Limited Reserve, and Rarest Vintage Reserve. Also there is Jameson Signature Reserve and Jameson Black Barrel Select Reserve.  If you'd like to get a taste of the Jameson Distillery, simply visit http://www.jamesonwhiskey.com.  They also have another tourist experience in Dublin, and I have been told by Dubliners and tourists alike that it is also a wonderful tour.

If you like this, please share it with friends: