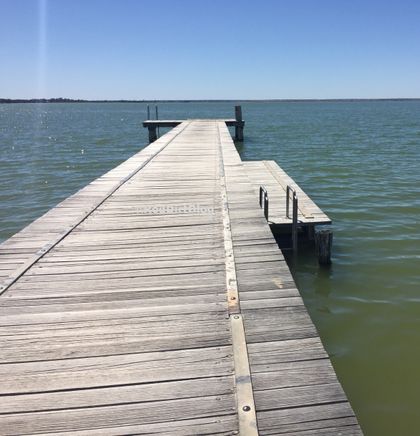 Stunning Lake Bonney is a freshwater lake in Barmera, in South Australia.  Interestingly, the lake is filled and drained by the Murray River, which runs through the region.
The town of Barmera, which is located on the lakes shores, is a quiet little spot that seems to come alive in the evenings from 4pm onwards. From then on, there are swimming, rowing, angling and scout clubs engaged along the lake, with locals enjoying the cool breezes after their hot days in the sun. 
The lake is named after Charles Bonney, who was one of the first Europeans to drive livestock from N.S.W to Adelaide, however local indigenous people called the lake "Nookampka".
It's a very scenic drive right around the lake, which was filled right up to the top of the banks when we visited.  Camping is available at various locations all round it.  The lake has lovely white sandy banks, and is shallow, perfect for swimming and sailing. Located on the foreshore is also a brilliant adventure play space for the kids and a long walking track.