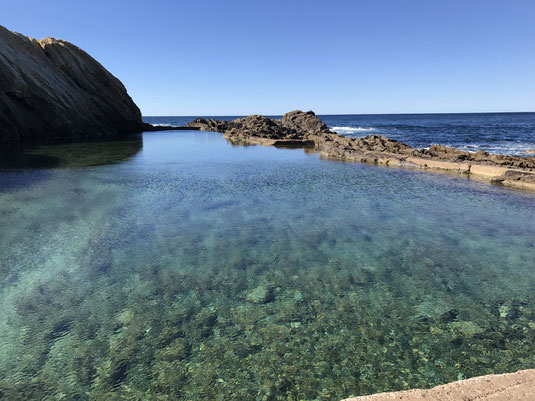 #swiminnature
The "Blue Pool" in the coastal town of Bermagui on the New South Wales Sapphire Coast, is a delightful scenic man-made pool to swim in, developed from a natural pool back in 1936.
Originally called "Blue Hole" it was a natural local swimming spot until local philanthropist Bill Dickinson initiated the project to turn it into a large swimming pool. The pool has been taken care of by the community ever since.  You can view some amazing photos of the pool over the years at the local "Bermagui Club" in the township.
Poolside there is plenty of benches and also a couple of picnic tables so you can enjoy refreshments.
The Pool itself is about 50 metres in length and was once used for local swimming competitions.
The constant waves create an unforgettable swimming experience, along the ocean side of the pool. There are also pumps that have been added so there is fresh sea water always in the pool. Next door there is a small kids wading pool, but at the time we were there, it did not look like it was in use. 
Blue Pool is an iconic natural rock pool at the base of the cliff on Scenic Drive. It is a lovely spot to sit during the whale watching season. There are many spectacular views up and down the coastline from the top of the cliff and down at the pool, including views to Montague Island.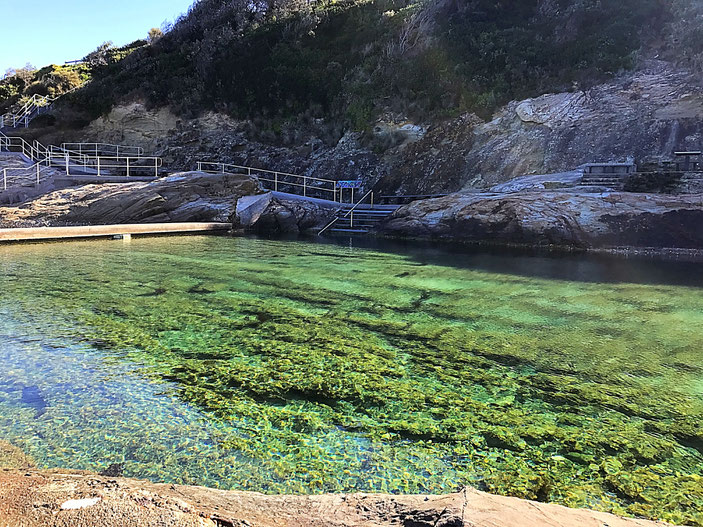 The Blue Pool is located right opposite the water tower on Scenic Drive and the pool is reached via a staircase from the parking area. A bit of a steep decline at first but it is relatively easy to walk down.
The steps down to the Blue Pool as well as the toilet, shower and change room amenities (at the top of the cliff) were reconstructed in 2010.
At the same time, a new viewing platform was constructed which offers magnificent coastal views and is the perfect spot for whale watching.
A must-see for visitors to the Sapphire Coast!
Share: