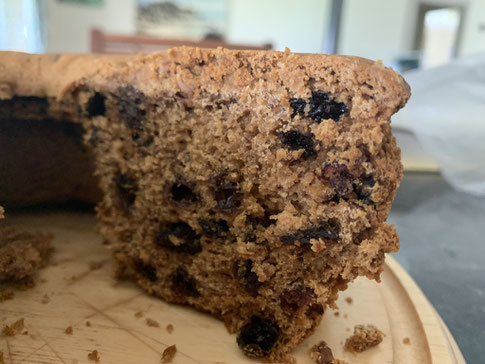 If you are not of Celtic origins you may not know that Irish people have their own Halloween bread! Yeah, we are a bit deadly like that. Not only do we dress up like witches and ghosts, eat peanuts out of the shell, bob for apples and light a big bonfire, but we eat "Barm Brack", a delicious spiced fruit bread. 
It is also widely known as Barnbrack, and Bairín Breac.  Traditionally, the loaf that's baked is quite large and would be used in a fortune telling game. Many different charms with all sorts of symbolic meanings used to be placed in the dough before baking, for example, whoever got the gold ring would be next to marry! 
My version is gluten free, and is a little different to some of the variants of the recipe. Many recipes are lighter and less fruit cake-like in manner, some recipes contain yeast and others contain orange peel and other fruits. It depends on which county you're from I think!
You still serve my version with a smear of butter and the cardamon gives me all the Halloween feels as its aroma circulates around the kitchen. I used apple cider in mine and local Hill Top Hives Honey. Gluten free, its easy on the tummy and made for everyone who is able to visit. 
I hope you enjoy munching away on this at Halloween. Mwah ha ha...
Ingredients
2 cup mixed dried fruit or sultanas
½ cup orange or apple juice (or apple cider)
230g (1 ½ cups) brown sugar
1 teaspoon mixed spice
1/2 teaspoon Cardamon (optional)
250ml (1 cup) hot, strong strained strong black tea
 2 eggs, beaten
2 tablespoons of local honey
500g (4 cups) SR gluten free flour (i use Orgran or Lauke brands)
½ teaspoon salt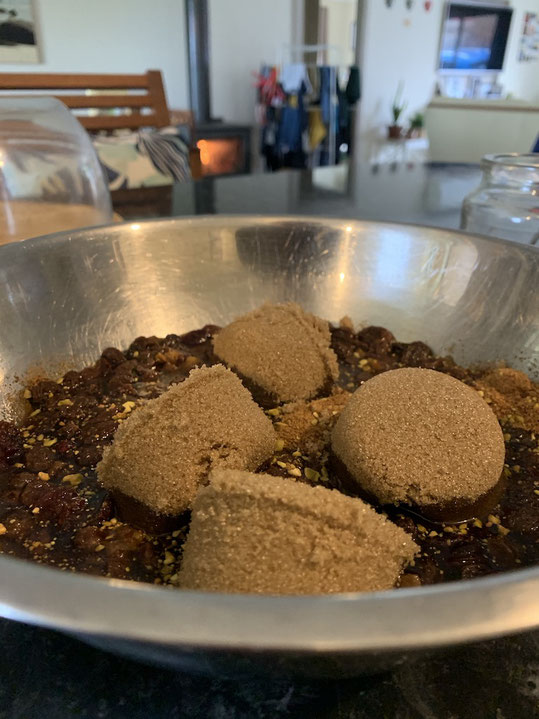 Method
Place dried fruit in a large bowl, pour on fruit juice and then tea, mix and leave covered overnight (in fridge if you want to) to allow tea and juice to soak into fruit mix.I sometimes leave it for 24 hours and its fine.
Next day, preheat oven to 160ºC (325ºF). Grease a 20cm square cake tin, or 2 x loaf tins, or a bundt tin.
Take fruit mixture and add beaten egg, honey, gluten free flour and salt and stir well. If it seems dry, add a little milk, but it should be a thick fruit cake consistency.
Pour into prepared tin(s) and bake in oven for 1 – 1 ½ hours at 160 degrees. Check to see if cooked by inserting a skewer into centre of cake. It is cooked if the skewer comes out clean.
Cool on a rack, slice as thinly as you can, and serve with whipped buttered when cooled. 
Enjoy all halloween week! It's not uncommon in our house to have it for breakfast, morning and afternoon tea as a special once a year treat!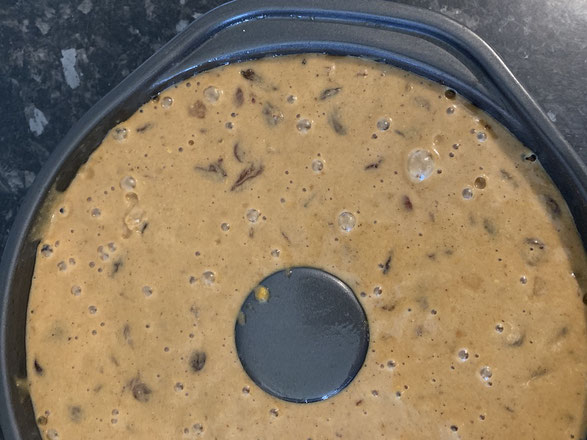 Share: