Last weekend, on Saint Patricks Day, we enjoyed getting together in the Arc Yinnar kitchen, next to the Yinnar Community Garden for another Kitchen Pantry Workshop to make this yummy irish-style sauce. It was great to see even more people in attendance and the kitchen full of eager cooks after a good recipe. We used tomatoes from the community garden as well as some members tomatoes and apples, it was a great opportunity to use up the glut of produce. 
Even though I have spent a lot of time writing and in my garden lately, I know the recipes have been blogged about nearly every week lately, I guess its this time of year, to be out and about and sharing our Autumn harvest as well as swapping recipes. More of our travels and stories are being worked on and are coming up I assure you, but well I had to celebrate St Patricks Day, didn't I? 
The recipe here is adapted from Rachel Allen, from the Ballymaloe Cookery School, who have been making Irish Country Relish for decades, and grow their own tomatoes on site to make their sauce in County Cork. 
Like most tomato sauces its really adaptable and can be served as a condiment on multiple dishes,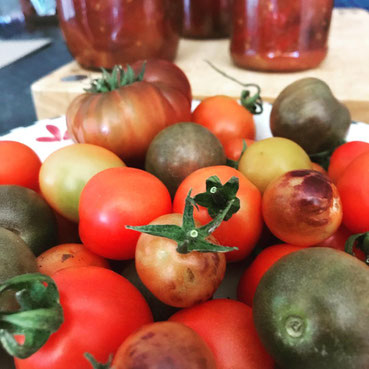 Ingredients
800g vine tomatoes chopped and 200g cherry tomatoes chopped
250g cooking apples chopped
250g chopped brown onion
225ml white wine vinegar
175g sultanas
250-300g sugar
2 tsp salt
1 tsp all spice
1/2 tsp ground ginger
1/2 tsp ground black pepper
the tip of teaspoon of cayenne pepper (more if you like cayenne a lot)
1 tsp nutmeg
Method:
Firstly chop the onion and cook them down with a little butter (Kerrygold of course) and oil (I used rice bran) until they are caramelised, translucent with a little brown edging.
Add the onions and all other ingredients in to a big pot. Let sugar dissolve, bring to the boil, stirring occasionally.
Bring down to a simmer and leave to simmer for an hour, stirring from time to time to avoid the end of the pot burning, using a cast iron pot is the best way.
Taste and season if required with extra spices or salt/pepper.
Pour into sterilised clean glass jars. . Secure lids tightly.
After you put the sauce in the jars, the sauce is best if left to mature for a week or two in the pantry, so all the caramelised ingredients can meld together and mellow. Four to six weeks is optimal. 
This sauce is ideal on burgers, bacon and eggs (or a bacon butty), sandwiches and of course potatoes (like proper hand cut irish style hot chips). I love to make this when my tomatoes are in abundance and the great thing about it, is that its not fussy on the type you have, so mix them all up to make this sweet sauce. I have gifted this for christmas and its really been popular, I've run out again. 
Enjoy and Happy St Patricks!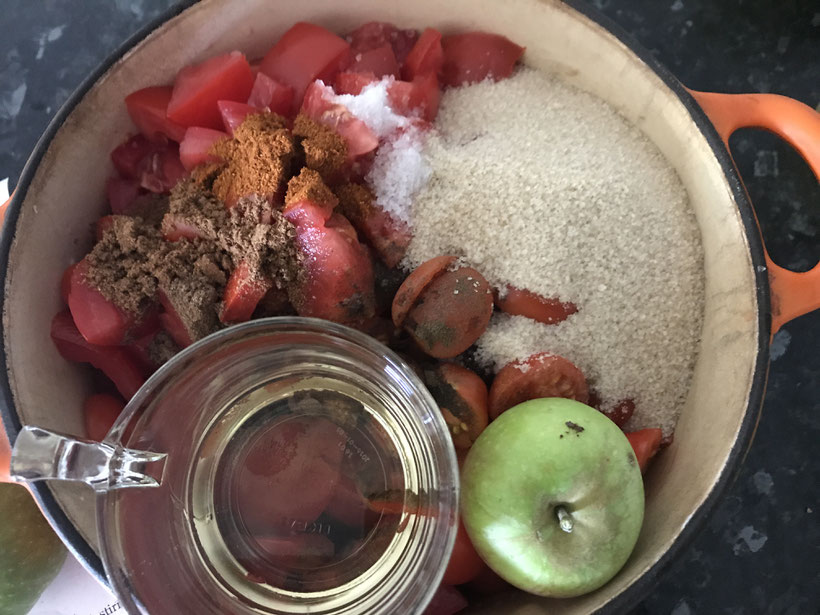 Share: