Victors Way, Roundwood, Co Wicklow, Ireland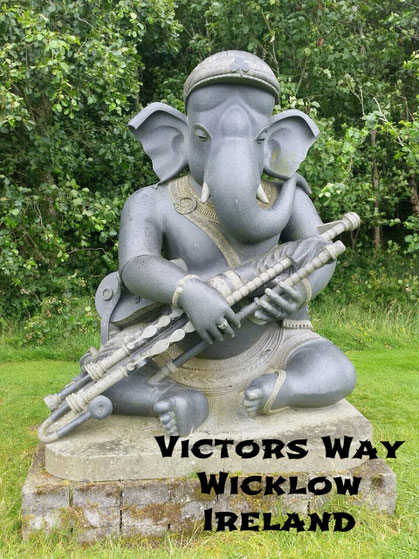 The unusual garden "Victors Way" is located just outside of the village of Roundwood in Co. Wicklow and while the 22 acre property features small lakes, stunning views and forested areas, it's a scenic purposeful walk with a focus on meditation.
The garden features a range of specially commissioned Indian made black granite sculptures that now sit in the privately owned meditation garden, which is open to the public at certain times of the year for a small entry fee.
The garden is by no means a place to wander around, shake off the day and empty the mind. It's intended purpose is rather to provoke thoughts about the human condition. Informative plaques guide visitors through a tour of the 14 statues, that are intended to represent the spiritual progression to enlightenment. 
Surprisingly, to me, the garden has also incorporated the role of technology and the internet into this tour, with the garden itself being dedicated to mathematician Alan Turing, who invented the first computer. There are many references to maths, internet, technology and Buddhism throughout the plaques in the garden.
There is also a shed building next to the garden, an escape from the Irish rain, where you can see photos of sculptures being made and a history of the establishment of the garden, as well as a shop filled with Indian trinkets, and many singing bowls, which are used to achieve "Harmony of Mind".
As some of the sculptures feature nudity and (some) grotesque, its not suitable for children.  In fact the owner himself has said the garden is for people over the age of 28 years.
When we went in search of the garden, there were only a few vague trip advisor reviews to go by, but since then a website has been created and you can visit it for more information.
It takes around 1-2 hours to go completely around the garden, indulge in a forest bath, dance with the elephants, and question the meaning of life.
We found that the gardens were very well kept and provide beautiful views over Wicklow, especially at "The Cobra" statue, where there are views of the Sugarloaf Mountain.
Definitely a walk for a mature and open minded individual, to walk out of the ordinary and into this magical and artistic garden!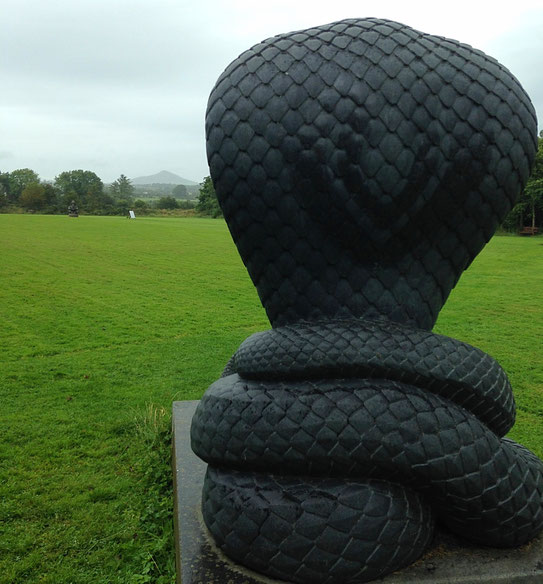 First published July, 2017