This past week we found ourselves in a "snap lockdown", where for the first time, we had a 5km radius invisible border of sorts imposed on us. Living in rural Victoria, we didn't really think we'd find ourselves in that kind of situation. Really, for some living out of town, their nearest neighbours can be kilometres apart!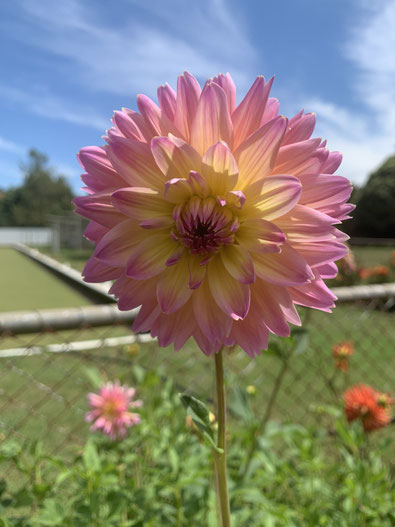 Walking around our little town...
With truck traffic halting, and no day trippers breezing through, the hills got quieter again.  Mr 9 became stir crazy of course, so we feel lucky that we could head out the door and run around the town to explore.  One particular favourite place for me this time of year is at our little bowls club, hidden down the side of a hill. A thoughtful gardener (or gardeners) has planted the boundary of the green with a blaze of colourful dahlia's.
A gardener's delight
We took the time to stop and admire each one and run around the entire green. I thought how lovely it is that someone took the time to plant it up so that other's could take delight in the space. Gardener's anonymously bring such joy, just by getting their hands dirty for a few afternoons or mornings. I know when i've done this, I've never really given it a second thought. 
Shared green spaces
It's funny how this past year people have really begun to focus on their immediate surroundings. It takes a shift in circumstances to realise what you already have on your doorstep. There have been many people moving to our region so they can enjoy space over suburban life, and that's really exciting.   For us, we have never looked back since our move to the country 10 years ago and couldn't see ourselves not growing food or having chickens. Let's hope this kind of thinking takes over. 
Is there a special green space near you that brings you joy? Be sure to share it with someone special.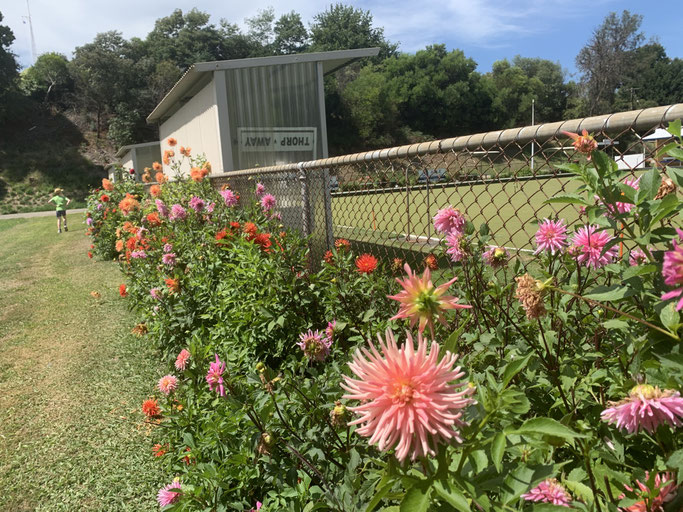 Follow:
Share: