'Grow It Local' is an initiative born in New South Wales, but now is taking Australia by storm. Their website is now set up with an interactive map, where anyone can register their veggie patch and find other people close by who are also growing edibles. It is easy to register your patch and you can be chatting with your neighbours in no time! 
Grow It Local was first brought to life in 2012. It was a 'crowd farming' initiative which generated lots of interest and was a lot of fun. At this time, their team included Jess Miller, Ben Peacock, Jordan Sly and the awesome folks at Sydney's Three Blue Ducks restaurant.
You can see what evolved here:
Growing Together
A celebration of backyard, balcony, community and window-sill farmers across the country, Grow It Local is a grass roots, purpose-driven mission to get more people growing, sharing and eating locally grown foods. 
They aim to make growing more accessible, increase the production and consumption of locally grown food, inspire positive health and wellbeing, while providing a connection to nature. 
By growing our own food we can help build stronger and more resilient communities, increase composting and reduce organic waste to landfill. It's also a bonus to find local growing friends and have a little fun while reaping the delicious rewards of our labour.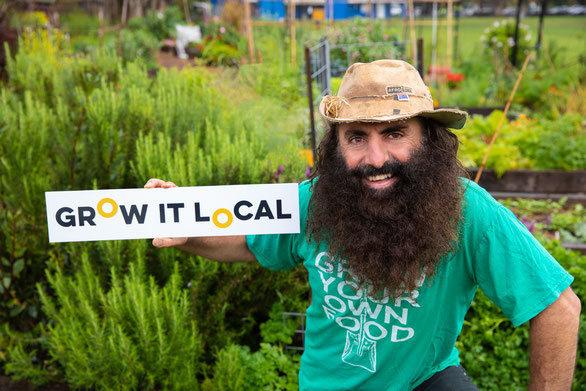 How do I register my patch?
Head to the 'Grow It Local' website and click on 'register my patch'. During registration, you can add photos, details about what you are growing, what produce you are interested in swapping and even hold workshops so you can share skills with people who are interested.
You can even sell seedlings in their marketplace or share recipes. You can also link up your social media so you can share what you are growing in real time. 
Registering your patch is a free and easy process that takes approximately 3-5 minutes. 
How do I find other growers?
It's as simple as heading to the website, clicking on the 'search' link and entering your postcode. 
It's exciting to see all the little pins that pop up on the map and seeing who else in your area is growing. You can reach out to them or admire them from afar.
I was so pleased to see a few growers pop up that very near me indeed on the map, and a good few in our region to boot. 
With the Gippsland region being an excellent food bowl region, I'm sure there is a wealth of growing knowledge and backyard growers out there who would love to register their patch. 
If you'd like to see what registering your patch looks like, please see my patch page. In 2020, Grow It Local hopes you'll join them in their mission to help get more folks growing, sharing and eating locally grown food.


Share: