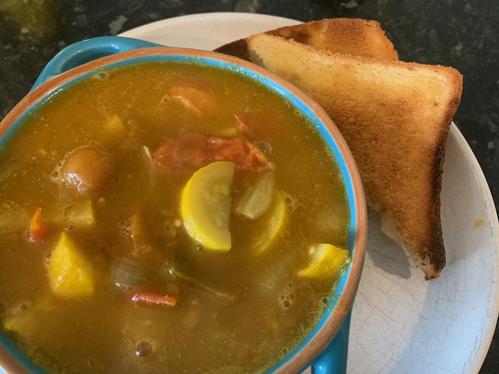 At the end of summer is when that glut of vegetables really starts to get overwhelming, and as the Autumn sets in, it offers a little more time in the kitchen to get things cooking. We've been enjoying this quick summer soup, and its the ideal lunch, that warms you up on these cool days we've been having.  It's also nutritious, giving us all the vitamins we need through the changing seasons.
A naturopath once said to me that the garden gives you the right medicine for your body, and at the right time too,  it knows what you need in every season. I think that's really true. 
Ingredients:
2 cloves garlic - crushed and finally diced
1 brown onion or 5-6 shallots (or Egyptian walking onions like us) - diced
200 gems - zucchini - sliced
500 gems of heirloom or assorted tomatoes - diced
1-2 cups vegetable stock
Salt and pepper
1 knob of local butter (we use Gippsland Jersey)
1 tbs rice bran oil
Handful of fresh basil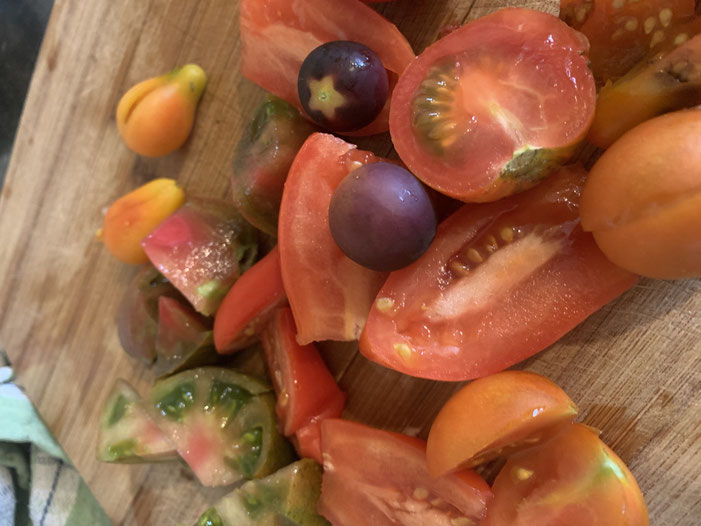 Method:
Add one knob of butter and tablespoon of oil to base of saucepan or pot and put on medium heat.
Add garlic and onion, salt and pepper to hot oil and gently fry until translucent. 
Add zucchini and fry until brown.
Add tomatoes and vegetable stock and extra water until all ingredients are covered.
Simmer for 20-30 minutes. 
Add fresh basil and stir in at the end.
You can serve chunky or blitz in a food processor for a smooth and creamy, kid friendly soup. It's delicious either way!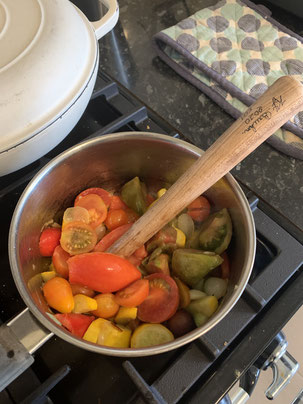 Serve with crusty bread rolls or a nice local or homemade sourdough. The flavour will take you to nice summery places. 
Enjoy! 
Also read:
Share