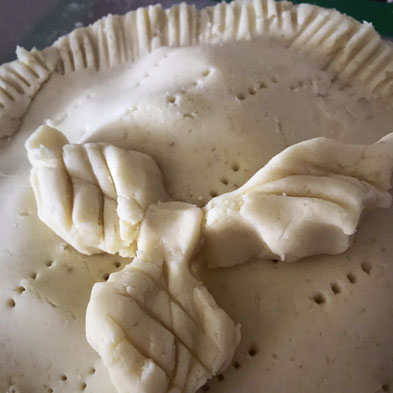 #glutenfreepastry
First published: 10.08.2018
When all the cookers are ready, the time has changed and the nights are drawing in fast, its nice to have a bit of apple tart and custard, with crunchy pastry. From a very young age, I watched my mother and grandmother whip up a tart in under an hour ready for after dinner or late afternoon snack with creamy piping hot custard.
In Ireland the cooking apples reduce right down in the pie, a Bramley apple is a great variety, and here in Australia, a Granny Smith will do the job.  I had one Granny Smith apple off one of our trees that was so big, it did the whole tart! 
I have made the pastry gluten free as I have coeliacs disease. It's taken me along time to perfect, but now although theres many different ingredients to the Irish original, it tastes similar and has the same crunch as it comes hot out of the oven.
Bramley or Granny Smiths Cooking Apples
Ingredients
300-500gms apples. (depending on size of tart)
140gms Gluten Free Self Raising Flour (I recommend the Lauke Bread and Biscuit Flour)
1/2 tsp salt
1/2 tsp Baking Powder
100gms chilled butter cubed
200gm boiled cooled potatoes (mashed without milk or butter added)
2 tablespoons desiccated coconut
2 tablespoons raw sugar
50-100ml milk (dairy or nut)
Method
Preheat oven to 180 degree celsius. 
1. Put the flour blend in a food processor or thermomix with 1/2 tsp salt and pulse to combine.
2. Add butter, coconut and sugar, pulse to combine.
3.  Add potato and pulse to combine, add milk a little at a time until dough combines and just only comes together.
4. Turn out onto a board or tray, form a ball  with hands, cut in half and then roll out with a floured rolling pin to .5-1cm thick, 2 sheets, one for the bottom of the tray, one for the top of the tart.
5. Place first sheet into tart tray. Slice apples into chunks until full, sprinkle with sugar, nutmeg or cinnamon if you wish. Lay send sheet of pastry on top. Prik pastry with fork to aerate while in oven. Coat with egg wash. Sprinkle with sugar. Decorate top with leftover pastry. 
6. Bake in oven for 30-45 mins.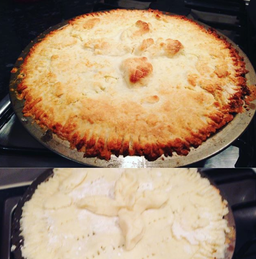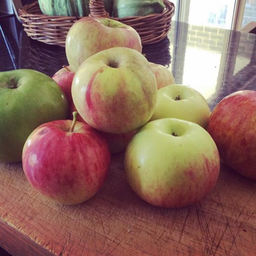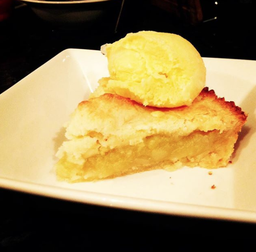 Enjoy with custard! 
Eat hot or cold, you can also add homemade ice cream. I am lucky enough to grow both the Bramley and Granny Smith apples here in my garden as well as many other varieties and they are delicious in this tart.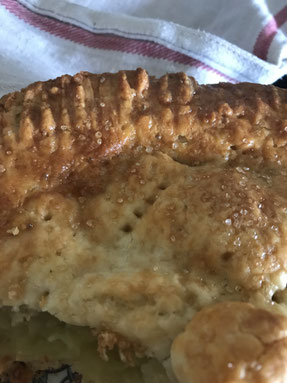 Share: