Valencia oranges Are the classic sweet orange, which are a wonderfully valuable addition to the vegetable garden, cementing it's place firmly in our edible oasis. If life gives you lemons, then surely oranges are the novelty that follows. 
In my opinion the edible garden isn't complete until it's also brimming with seasonal fruit trees. A lemon, orange, mandarin and then lime are probably the most practical citrus to have, in that order too. They can be used fresh or to make curd, cakes, desserts, marmalades, and also to infuse water and of course make refreshing squash for those warm days or cosy days inside.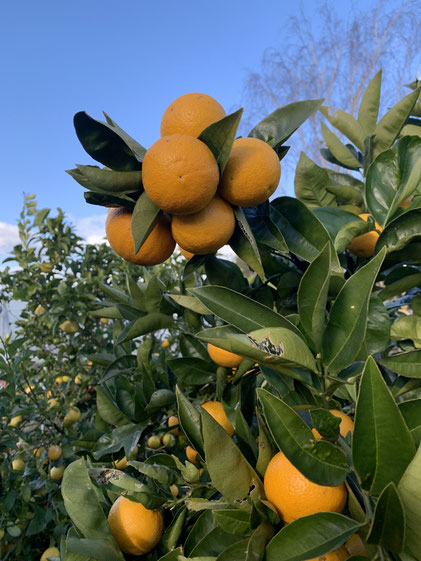 Fruit stays on the tree…
We are now getting over that hump of establishing a garden and choosing varieties, I can safely say that the Valencia orange has been one of the most valuable additions. This bushy tree has plumped out with delicious fruits gradually during the past ten years, now they sit ripe on the tree filled with sweet juice, ready for whenever we need them. 
That's one of the beautiful benefits of a Valencia.  Ripe fruit does not drop. Rough skins turn smooth and they can just wait on the tree for you. An ideal gardener's fruit, no rush, it has the power to be patient. 
If you have a bigger backyard you can benefit from having one navel and one Valencia, providing you with fruit for most of the year.  Less need for the supermarket. 
Baking is an orangey dream….
As well as being a healthy and delicious snack the Valencia is great for boiling / steaming in our thermomix to make whole orange cake. We also make orange squash, dry them for christmas presents and sweets, infuse them in vinegar cleaners, add them to salads and marinades, even just slicing to add to a glass of water. It matches well with rhubarb in desserts too! 
Plant one of your own…
Valencia orange's like a cold-zone temperature the best, so down here in south-east victoria is perfect and the tree, once established, needs very little help. They do best in a sunny sheltered locations with well drained soil (ours is planted in red clay but it drains well).   When planting mix in dynamic lifter and citrus fertiliser into the planting hole before you rest the tree roots in there. 
We fertilise with citrus fertiliser in May, June, and July each year.  We also add dynamic lifter, dolomite lime, and mushroom compost around the base of the trees. We also add potash to the lemon and lime only. By July, we are laden with fruit. Valencia oranges are self-fertile and we have no other oranges in our garden. It's heavy with fruit each year. If your oranges look green, it makes no difference to the fruit inside, the skin is just re-absorbing chlorophyll to protect itself against sun and warm spells. This is just what normal oranges look like!  
Of course, supermarkets spray oranges with a natural chemical to make them look appetising for the consumer. One wonders what is the point? When I explain this to guests who visit my garden or those who receive presents of fruit from me, they are exasperated at this admission, there is always an eye-roll. Because we as consumers are not stupid. I believe, if consumers were informed, green tinged oranges would become a normal sight in the grocery aisle.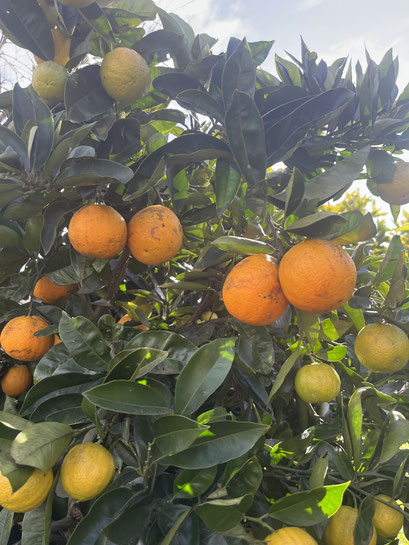 Health benefits….
Valencia's are high in vitamin C, a welcome natural boost for your immune system, high in potassium, which is wonderful for your heart, and rich in B vitamins for your skin, liver and brain. Oranges contain flavonoids, which reduce cholesterol and prevents blocks in arteries.  Oranges also help to fight macular degeneration. What a wonder-fruit! 
Get planting…
From now and up until the end of spring is the perfect time to go looking for a Valencia orange at your local nursery.
Enjoy your garden's citrus - EMc

Also read:
Share: