There are many pre-packaged gluten free granola and mussel's popping up at the supermarket, but if you already buy lots of wholefoods in bulk, you may already have all the ingredients in your cupboard to make your own gluten free granola, just how you like it! 
What is the difference between muesli and granola?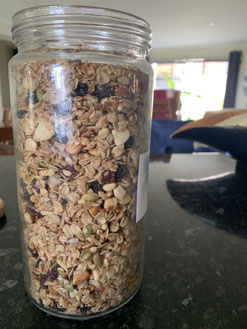 While both muesli and granola are a mix of grains, seeds, nuts and dried fruits, the main difference is that granola is sweetened with honey or maple syrup and is baked. Muesli is not baked. 
They each are regarded as a healthy breakfast, I find personally that muesli gives me really bad indigestion and heart burn, while granola does not. This may be due to having coeliacs disease. I also seek out gluten free oats (which are hard to find at times) and to make my own in bulk so that I have a healthy breakfast on hand, as well as a healthy topping for desserts and snacks.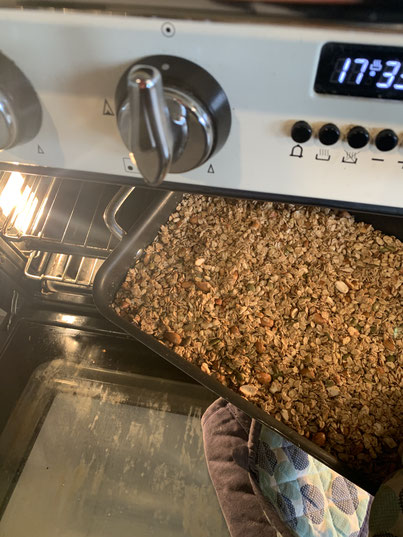 Gluten Free Vanilla & Cinnamon Granola
Ingredients:
2-3 cups of gluten free whole rolled oats
1 cup chopped/pulsed nuts
1 cup seeds
1 tbsp cinnamon
1 pinch salt (optional)
1/4 cup coconut oil
1/4 cup maple syrup
1 tsp vanilla paste / extract
1/4 - 1/2 cup dried fruit
Method:
Preheat oven to 170 degrees celsius (fan forced).
Chop / pulse nuts and add to a bowl.
Add oats to bowl.
Add seeds and cinnamon to bowl and mix together with stainless spoon.
In a big baking pan add coconut oil, vanilla paste and maple syrup to pan and place in oven for 1 minute, until all coconut oil is melted, then pull it quickly out and mix it together.
Add the granola mixture to the baking pan and mix together until all the mix is coated.
Place in oven for 10 minutes, then pull it out and mix again.
Place in oven for another 10 minutes, take out and mix.
Place in oven for final 10 minutes, then mix once again.
If you think it needs more time, give it another 5 minutes.
Let mix cool, then add dried fruit of choice and mix together.
Place in big jar for the pantry.
Enjoy! 
Happy Baking! - EMc

Also read:
Share: