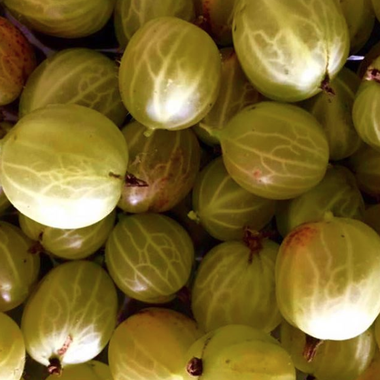 The "Yorkshire Champion" Gooseberries are ripening up again, always just in time for Christmas. I now associate that "it feels like Christmas" feeling with picking the first of the green round delicious little berry named after a goose for some reason.
Does it go well with a Christmas goose? Perhaps something I should muse over another time...
Too sour to eat raw?
Not here where we live anyway. Our red clay soil seems to produce very sweet gooseberries, I liken the taste of these ones more to grapes. Ive had a few people from the UK try one of these and are surprised at their sweetness. Must be the great Mediterranean climate, red soil and lots of rain combination in our garden.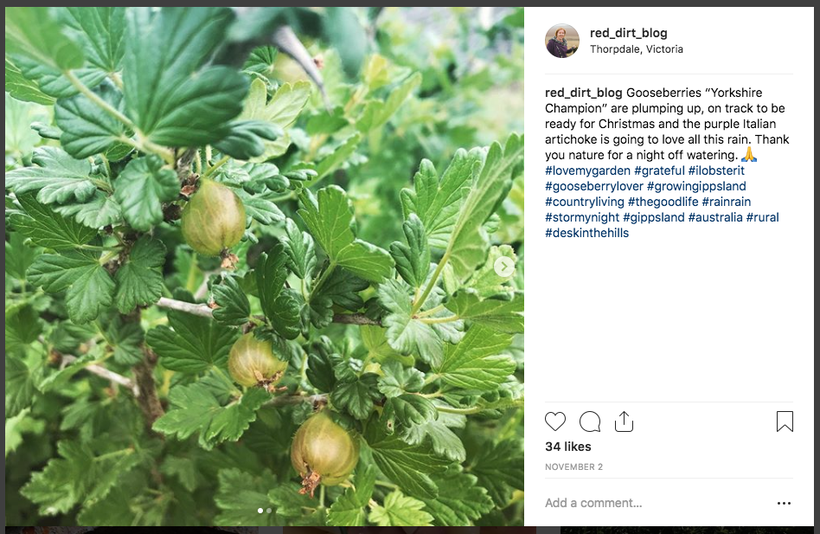 I must say since we got our first big crop only last year, I have some cuttings growing on and plan to add some more to a little mini Gooseberry farm I have planned for the back yard (I broke the news to my husband very gently).
After making Jam as a Christmas treat for visitors last year, I am again planning to make a few jars for the festive season. I have made Gooseberry and Geranium jam, its nice to leave the antique rose scented pelargonium leaves to steep in the jam while it boils and it adds richness to the jam for a brilliant full flavour.
Ingredients:
1kg Gooseberries
40ml lemon juice - juice from one lemon
400ml water.
1 kg of raw sugar
2-3 rose scented Geranium / Pelargonium leaves
Method:
1. Sterilize your jars
2. Put the first three ingredients into a saucepan and bring to the boil, while stirring gently.
3. Add sugar and simmer until dissolved.
4. Add geranium leaves in Muslim cloth or let float on top as it simmers under gentle hear for another 15 minutes. Check that the fruit is soft and pulpy before taking off the heat.
5. Test the jam with a plate from the freezer to make sure it goes wrinkly and will set. 
6. Skim the geranium leaves off the top and pour into sterilised jars.
Package with labels, ready for Christmas giving! Store in a cool, dark place. Will last for 6-12 months. Keep in fridge once opened.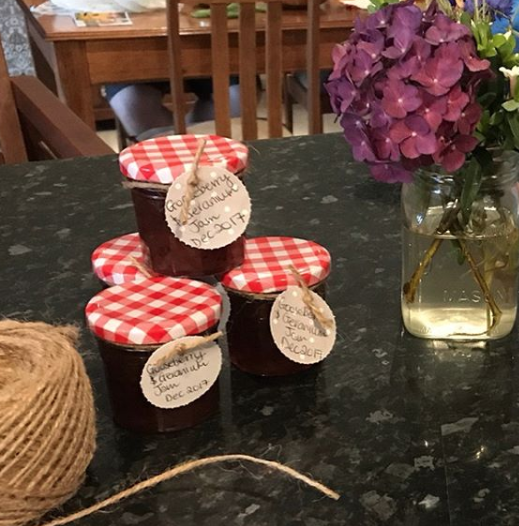 Goosegogs or Gooseberries?
I did google "why are gooseberries called gooseberries", but alas the explanation has nothing to do with geese and its a bit rude! I did however learn that people use to say their children were born underneath a gooseberry!  I dare you to google it!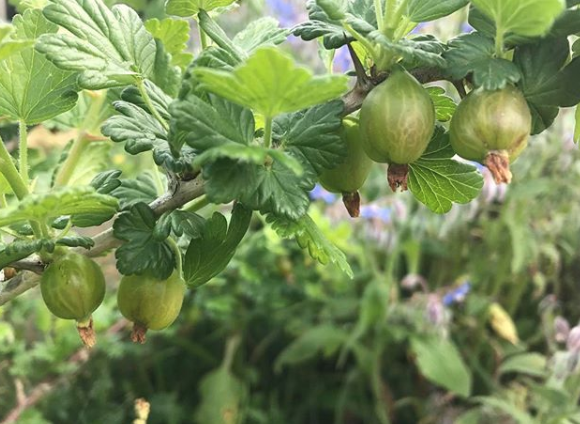 A little bit more about Gooseberries:
 Just because now I have your attention!
Also called Ribes Grossularia.
Gooseberries were grown in Tasmania and Victoria originally but lost popularity. However, during the 19th century and early 20th century England there were Gooseberry clubs where members competed to grow the largest fruit. I mean big, check out some of these clubs videos on YouTube.
The fruit is produced on one year old wood and I like to prune out the middle in the dead of winter, which keeps the plant aerated and makes it easier to pick the new Gooseberries every year. They are very thorny plants so spacing branches out makes a lot of sense. 
Gooseberries need a good frosty Winter for fruit production, ideal in Victoria and Tasmania.
Give it a good feed with manure and compost at the end of Winter and it'll boost the plants for fruit production.
Plenty of water is needed to create a good fruit crop.
Some varieties available in Australia include:
• Green Giant: large, yellow-green fruit. most suited to production of green fruit, but is also acceptable as a dessert variety.
• Roaring Lion: small, red fruit.
• Farmers' Glory: medium sized, red, later than Roaring Lion; largest available red-fruited form. Most recommended for home gardens due to good yields.
• Yorkshire Champion: medium sized, green-yellow fruit.
• Captivator was introduced to Australia due to its thornless habit, but yields are low.
Yorkshire Champion:
My favourite is of course the "Yorkshire Campion".
It's one of the most well-regarded European varieties, with plump fruits on a compact, arching plant. The translucent fruit of this prolific variety is green, streaked with sunny-yellow stripes when ripe. It is one of the best for pies, jams and preserving.
My hope is to have lots of cuttings to share with everyone, as its hard to come by now, it is occasionally on sale through The Diggers Club, but I have not seen it available for some time. 
Christmas Fare:
If you have your own productive garden, this year I would like to encourage you to making things from the garden to give to visitors. It's much more appreciated than a box of chocolates and its nice to give something that you have made yourself, from your own garden or talent bank.
This year I'll be making:
Popcorn Rocky Road
Gooseberry and Geranium Jam
Soaps from the garden - Rosemary, Lavender and Sage, Lemon and Sea Salt, Honey and Vanilla Shaving Soap, and Pink Clay Rose Soap.
Lemon Cordial
Have a go yourself, even potting up some succulents and herbs is a great start!
Enjoy jamming and making this festive season with this recipe.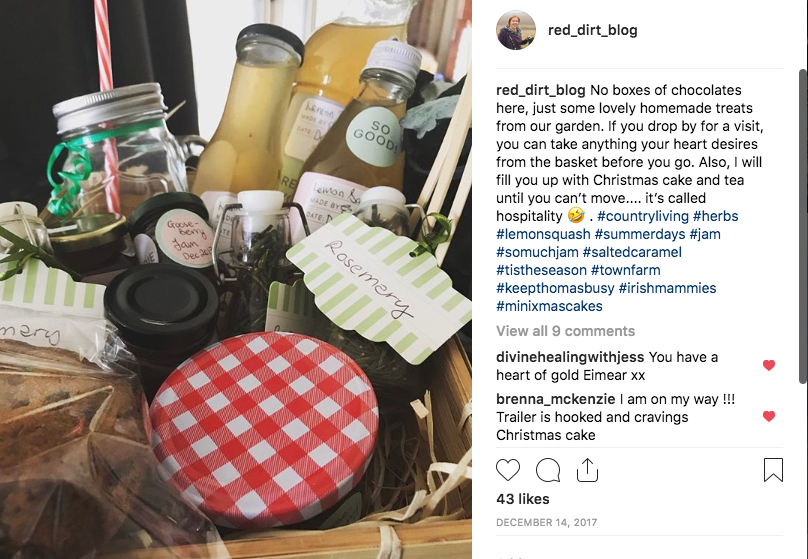 Share: