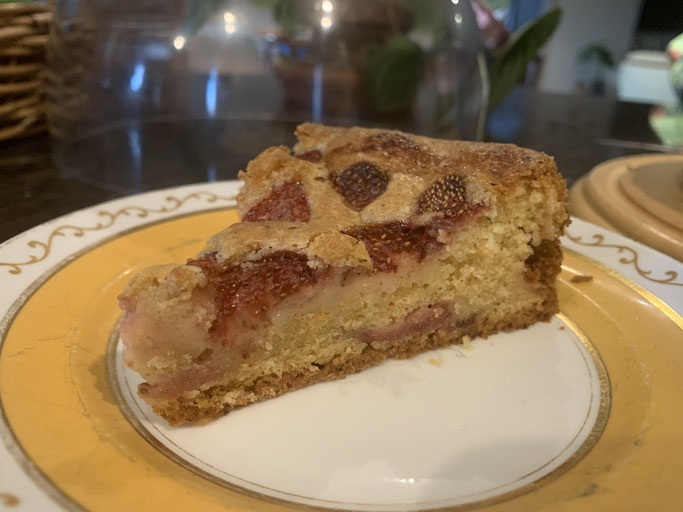 While strawberries kick off in the garden from early spring, it's not unusual to be flushed with them again in early Autumn. 
I often find handfuls of strawberries during the morning lap of the edible garden and take them inside before breakfast. 
When you have more than enough just to nibble on, I found making a nice European style light and fluffy cake, that goes all jammy when you reach the fruit, is a beautiful treat that you can eat at anytime of the day. Picking strawberries in our Mediterranean climate garden, a taste of this cake brings me right back to Italy, and some of the lovely light cakes I sampled while there, many moons ago now!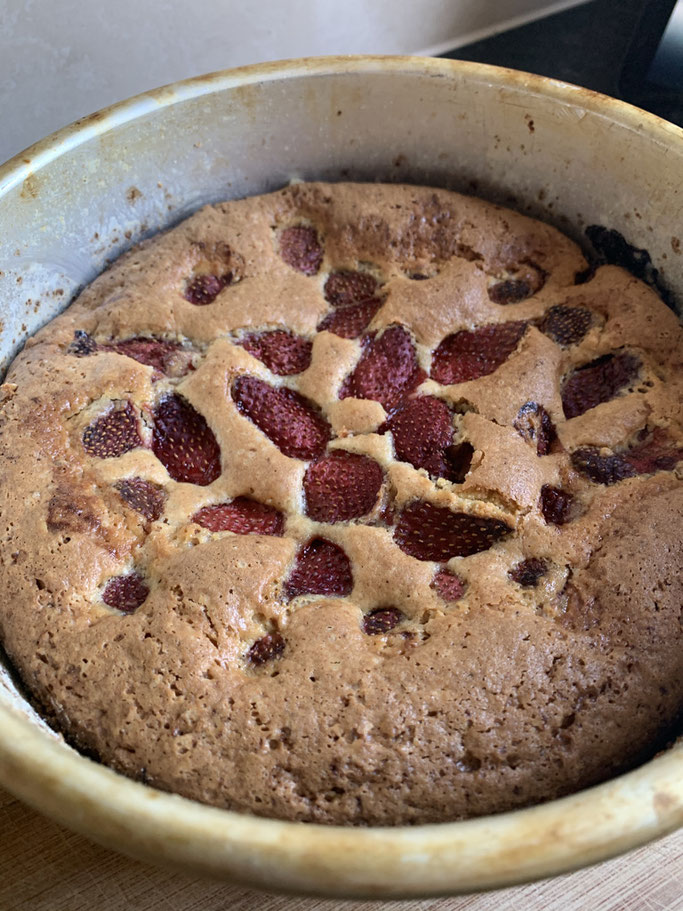 Traditionally in Europe this cake is made after breakfast, once you have rounded up all the strawberries in the patch and brought the spoils back inside. 
I have adapted the recipe to be gluten-free. I have found that adding almond butter makes a fluffier sponge and that yogurt, sour cream or thickened cream all work great in the recipe, so you can use whatever you have in your fridge. You are likely to have at least one of those 3 items.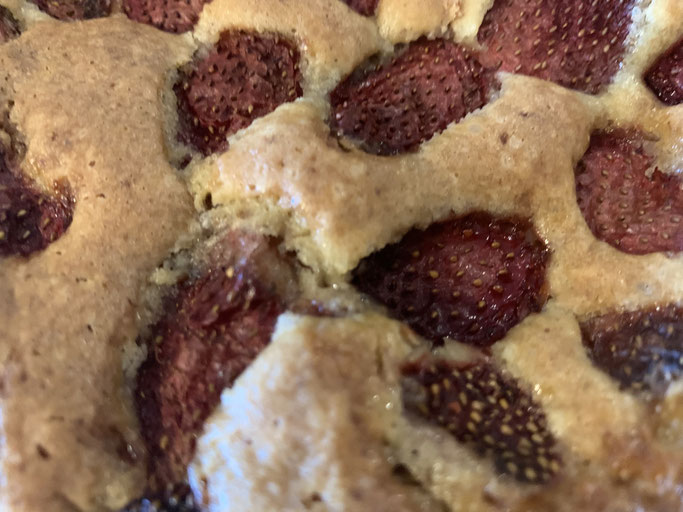 Ingredients:
2 eggs
200gms caster sugar
60ml rice bran oil or olive oil
150gms yogurt, sour cream or fresh thickened cream
1 tablespoon almond butter
250gms gluten free flour, sifted in to mixture
1 x teaspoon baking powder
Zest of one lemon
250gms strawberries (or blueberries, raspberries or sliced apple or pear)
Method:
Preheat oven to 180 degrees Celsius
Grease 20cm cake tin , line with baking paper and grease, then flour the baking tin using one tablespoon of gluten free flour.
Crack 2 eggs in stainless steel bowl. 
Add sugar and whisk.
Add oil, yogurt, and almond butter then whisk together. 
Add flour and baking powder to sieve and sift into mixture in thirds. Whisk flour in vigorously.
Grate lemon zest into mixture. Whisk again.
Halve the strawberries and cut one half into quarters and then fold into mixture. 
Spoon mixture into cake tray.
Cut remaining strawberries into halves and lay across top of cake. The great thing is they will stay on the top of the cake. 
Put cake in oven, bake for one hour on 180 degrees (maybe 1hr 10 minutes with some gluten free flours), until knife comes out clean.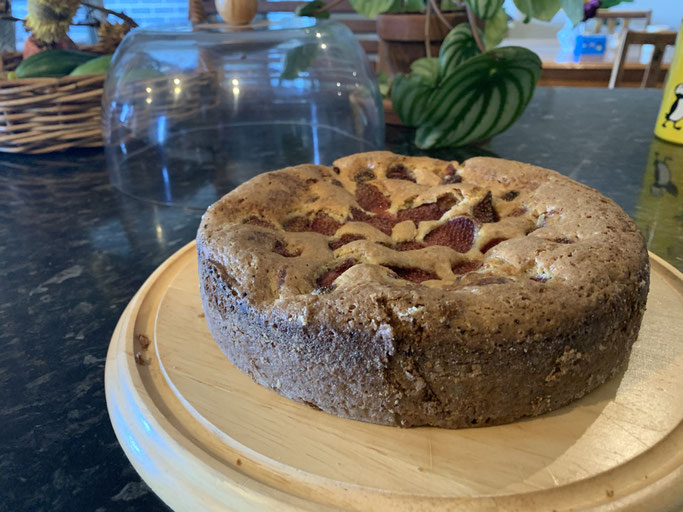 Dust with icing sugar. Eat warm or cool, with fresh cream or ice cream. 
The strawberries go all jam-like and melt your mouth. It will be hard to keep this light and fluffy cake in your house for more than one day!  A day with visitors breezing through and you will have no chance!
Experiment and try some of the other fruit mentioned, we thought the blueberries were nice too. Let me know which fruits you have had success with!
Enjoy!
Other recipes:
Share: